Обновлено:
12 октября 2023, 05:19
Mobile concrete plant Sumab K-40 (40 m3/hour) Sweden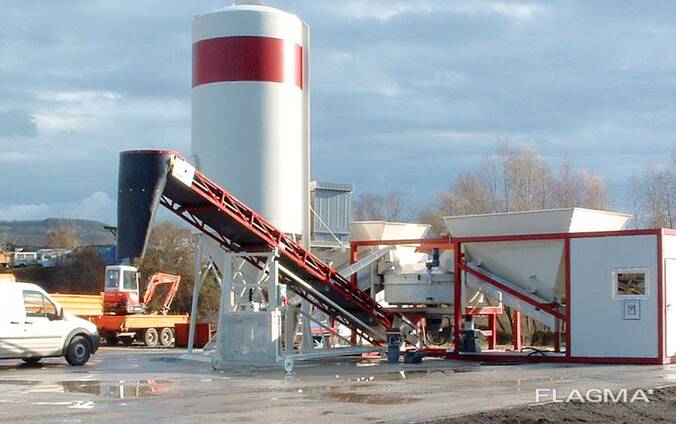 The representative of the Swedish company "Scandinavian & UK Machines AB" /SUMAB/ invites you to familiarize yourself with the equipment for the production of concrete and products made from it - mobile and stationary concrete plants, block machines for the production of paving slabs and curbs. The Sumab K-40 mobile concrete plant is designed for the production of high-quality concrete and concrete mixtures in a volume of 40-60 m3 per hour. The exact performance indicators of the plant depend on the type and grade of concrete produced, as well as on the inert materials, cement and amount of chemical additives used in the production of concrete. The mobile concrete plant is equipped with a convenient control cabin and an automatic plant control system. The modern computer system Icon allows us to produce 25 recipes and grades of concrete. It is possible to print each mixture of the finished batch in kilograms and percentages, which prevents the theft of inert materials or cement during the preparation of the concrete mixture. The basic configuration of the plant includes the following elements: 1. Fully automated mobile concrete plant, productivity 40 - 60 m3 per hour. Located on a container frame. 2. Bunkers of inert materials 4*3.8 m3 3. Sensors for weighing inert materials. Located under the planetary mixer. Dosage accuracy +\- 100 g. Siemens - Germany 4. Conveyor for supplying inert materials from bins to the mixer, incl. electric motor 4.5 KW Located under the bunkers 5. Pan mixer 1500/1000 liters, coated with a 12 mm layer of special wear-resistant Hardox steel. 5 quick-release spatulas with fiberglass tips. Automatically opening ready-mixed concrete supply valve. 6. Galvanized water tank, 500 liters, with built-in Danfoss pump and water supply dispenser 7. Mobile concrete plant control panel. Manual keyboard. Easy touch PC screen of Siemans automatic plant control. 50 grades of concrete with the ability to change the brand of concrete before each batch. Printer with a printout of the finished batch mixture in KG and %. Indicators per batch, hour, shift, month 8. Chemical additive pump with hose with automatic control from PC 9. High pressure compressor 160 BAR for cleaning a concrete plant 10. Air compressor 10 BAR Warranty 12 months. Additional Options: Cement supply screw – diameter 220 mm, length 4.5 meters. Electric motor 5.5 KW. Built-in cement dosing sensors Cement silo 60-100 tons incl. filter, ladder, Max - Min levels, protective grille, cement supply pipe Conveyor for supplying ready-made concrete from a mixer. Length 12 m, width 1000 mm. Thanks to the use of Scandinavian technologies, our factories have a high level of durability and reliability. Equipment delivery is carried out exactly on time. More than 20 years of reliable partnership. Sumab concrete plants operate in Europe, North and South America, Arab countries and Africa. During the period of activity of the company, more than 500 concrete plants of various configurations and productivity were supplied. To receive a commercial offer, please send a request to our email address.